Outdoor Furniture Buying Guide
Make the most of the great outdoors
Buying garden furniture is a long term investment and making the right choice will give your family years of enjoyment. Planning is key. We'd all like to throw glamorous garden soirees and be bursting at the seams with family and friends, but what's the reality of your alfresco needs? Is entertaining a large group likely to happen regularly or will you be satisfied with enough space to seat mum, dad and a couple of wriggly kids comfortably?
---
What kind of needs will your garden furniture fulfil?
When the weather's pleasant your garden becomes an extra space to be used as an open air living room, dining room and playroom. Dining tables or conversation sets that can seat groups of people tend to be the main focus of a garden, as a dominant piece of furniture as well as a social hub, but there are plenty of other options.
If you're a sun worshipper who loves to lie back and relax, a reclining chair or two will transform your lawn into lounge heaven if your garden has room to accommodate. If you struggle to find a moment to yourself, the summer weather might be an unexpected ally. A garden bench tucked into a secluded spot works wonders for a little me-time, so set it in a sunny space to sit and read or simply watch the world go by.
---
Size and spacing suitability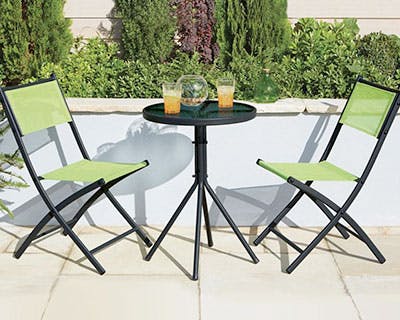 Regardless of the size of your garden, there's a furniture solution to suit. The trick is to think practically about your needs and use the available space creatively.
There's no sense in buying your dream corner unit if it's tightly squeezed into your garden and impossible to navigate around. Make sure back doors, French windows and balcony windows can open fully without being obstructed by outdoor furniture and accessories, and ensure you're still able to move freely around your garden without shuffling chairs out of the way.
If saving space is your priority, folding chairs and extending tables are an excellent and versatile way to furnish your garden as they can be stored more easily. Folding chairs also offer ideal spare seating when unexpected guests pop round.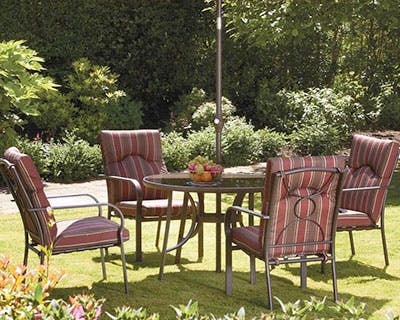 Tables and chairs
When not in use your chairs might be stacked, folded, or tucked neatly under the table, but remember your dinner guests will need to get in and out of their seats easily so allow a bit of elbow room and space to exit without clunking seats against the fence or walls.
Small to medium gardens
Bistro sets with a compact table and folding chairs are great for smaller spaces as they are easy to store, giving your limited space more flexibility. Go for items with lots of character to make your petite space pack a stylish punch. A round table is ideal for efficient entertaining as the full circumference forms a usable dining space.
Large to medium gardens
More space to play with provides lots of opportunities, so it's time to get creative. You might want to divide your garden into different areas dedicated to entertaining and relaxation, to advance the feeling that your garden is an extension of your living space. Use dining sets and conversation sets to define distinct areas, or add a bench, hammock or swing set for somewhere to relax fully.
Getting your furniture into position
So, you've chosen the perfect spot for your new garden seating, checked it won't get in the way and is a safe distance from the barbecue, but how is it going to get there? Just as you would if you were buying a sofa for your living room, you'll need to measure any entrances your new furniture will need to fit through. Measure before you buy to avoid frustration.
---
Materials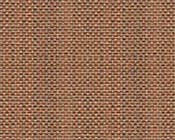 Rattan effect outdoor furniture
Modern garden furniture often uses 'poly rattan' which is designed to look and feel like traditional rattan using a textured polyethylene that's more robust and weather resistant than natural rattan.
- Can be used indoor, outdoor and in conservatories
- Durable weather resistant material
- Woven around rust-resistant aluminium frames
- Easy to clean using a hose or wet cloth
- UV and mould resistant
- Can be left outside but will last longer if stored inside during winter
- Store all cushions inside during wet weather and through winter
- Comfortable with or without cushions
_________________________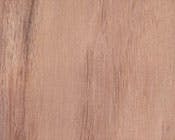 Wooden outdoor furniture
- Strong, durable with a natural look anti-corrosive coating
- Store all cushions away in wet weather and through winter
- Easy to clean with soap and water
- Long lasting with good care
- Benefit from annual treatment to protect against weather
- Should be covered or stored through winter
_________________________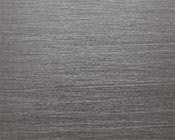 Metal outdoor furniture
- Aluminium and steel furniture are rust resistant; other metals may need an anti-corrosive coating
- Aluminium is lower priced, lightweight and easy to manoeuvre, but requires greater care
- Steel furniture has a higher price and heavier to carry, but is more durable
- Easy to clean with soap and water
- Should be covered or stored away in winter
_________________________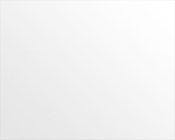 Plastic/Resin outdoor furniture
- Affordable, lightweight and weather resistant
- Often stackable for compact storage
- Wide range of styles and colours
- Easy to clean
- Store through winter to maximise the lifespan
- Minimal assembly required
- Ideal for kids furniture
---
Garden furniture accessories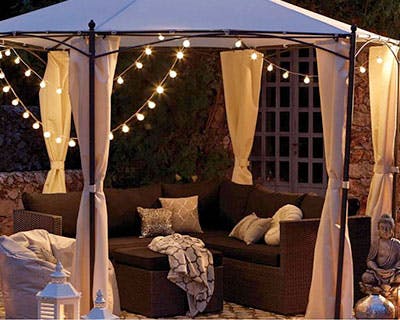 Gazebos, arches, parasols and shades
For the safety and comfort of your whole family, creating a shady area in your garden is so important. Gazebos are perfect for a shaded sanctuary to escape to during the hottest hours of the day while still allowing them to enjoy the outdoors, and will add a decorative element to your space.
Garden dining sets will usually be equipped with a hole in the centre to fit a garden parasol pole through, just make sure you use a weighted base to fit your parasol into. If you'd like shade over a conversation set or elsewhere in your garden for a sun-free area to read or play, a cantilever parasol allows you to create a shaded area that can be enjoyed fully, without a central pole.
Garden lighting
Part decorative finishing touch, part necessity, garden lighting ensures you're not limited by daylight hours. Wall mounted garden lights connected to the mains will give you a functional bright light by which you'll be able to take care of tasks like taking out the rubbish without tripping over hidden obstacles.
For a softer approach more suited to entertaining and relaxing, solar lights are the answer. Low maintenance and easy to install, solar garden lighting comes in a range of styles and colours to suit all tastes. Just angle the solar panel in the sunniest direction and when the light levels drop sufficiently, the solar illuminations will turn on automatically.
---