Barbecue Buying Guide
Make the most of the great outdoors
Gas barbecues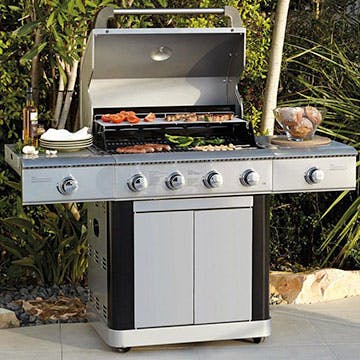 Gas barbecues make it easier to provide a variable heat for cooking thanks to adjustable burner controls, making it easier to cook food safely and evenly without burning. Once the gas canister is securely connected and turned on, the barbecue can be lit immediately, and you can get cooking in approximately 5 minutes.
Once you have concluded cooking, tidying up is faster than with a charcoal barbecue too. There's no need to wait for the embers to extinguish and no ash to clear away, simply turn off the gas and wait for everything to cool before cleaning.
Propane gas is usually used for gas barbecues. The first time you buy gas you might be asked to pay a deposit in addition to the price of the gas. This covers the hiring of the cylinder, and once depleted your supplier will replace your empty gas cylinder for a full one, retaining the deposit and charging you only for the replenished gas. The size required will depend on the size of your barbecue and frequency of its use.
ⓘ Guidance on how to obtain gas is included with our packaging instructions.
---
Charcoal barbecues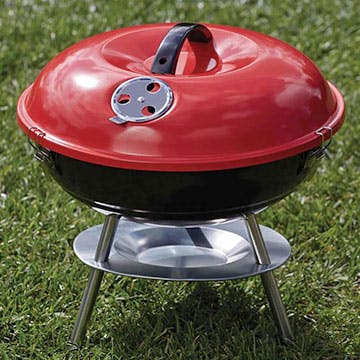 Wood and charcoal fuel types require time to reach the right cooking temperature, on average it will take around 20 minutes, so plan ahead if you're entertaining or planning to eat at a particular time. Once it's ready, the heat in a charcoal barbecue is harder to control as the burning fuel cannot be adjusted. The amount of heat your food is exposed to can be controlled by moving the grill up or down, further from or closer to the lit coal or wood.
You can use lighter blocks or lighting gel to help start your charcoal barbecue. Charcoal burns white when ready to cook and creates ash which must be removed after use every time. A removable ash tray will help with this.
A lidded charcoal barbecue will protect your food from the wind on breezy days, and with the lid down will provide an enclosed cooking space that will act much like an oven, in which food can be roasted. A compact lidded barbecue, e.g. a kettle barbecue, is ideal for smaller gardens and portable models make it possible to enjoy laid back barbecuing while camping.
---
Barbecue size guide
Barbecue grill surface size indicates how much room there will be to prepare your meat and vegetables. Additional sections like warming racks provide extra space to save cooked food without it getting cold.
For either gas or charcoal grill, think about how much food you're likely to cook simultaneously, and picture it laid out on the grill. To cook 12 burgers at once you'll need around 50cm² of surface area, so it depends on what you want to grill and in what volume.
4-6 people 2 burner gas barbecue
6-10 people 3 burner gas barbecue
10-14 people 4 burner gas barbecue
---
Additional features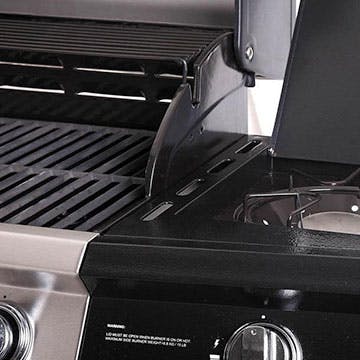 Lid/hood
Lets you create an enclosed cooking space similar to an oven. The heat is more evenly distributed around the meat to cook more consistently, rather than burning the outside and leaving the inside raw.
Temperature gauge
Verifies your barbecue has reached the right temperature to cook your food evenly and safely, and will keep track of cooling after use.
Multiple burners and individual burner controls
Burners with individual controls allow you to manage the heat to cook different items and heat separate areas.
Side burners
Ideal for preparation of additional items, e.g. vegetables, sides and extra food.
Griddle or Grill Trays
These makes it is possible to cook smaller items that would otherwise fall through the bars of a barbecue, e.g. bacon, vegetables, fish.
Warming rack
Additional space to store cooked food and keep it warm until ready to be eaten.
Accessories
Tongs, a fork and a spatula are essential for turning food safely, as is an apron to prevent hot fat splashing and burning the chef. Flavoured BBQ smoking chips and smoking papers can be added during cooking to infuse your food with different smoky tastes, including oak, beech, whisky, and more.
---
Safety tips and guidance
Barbecues are for outdoor use only and should not be used in an enclosed space. Do not leave unattended once lit, and keep children and pets away at all times. Please read and follow the manufacturer's instructions and safety guidance included with your barbecue.
---