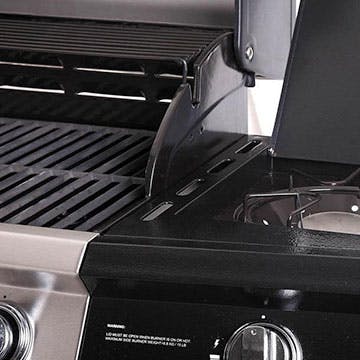 Lid/hood
Lets you create an enclosed cooking space similar to an oven. The heat is more evenly distributed around the meat to cook more consistently, rather than burning the outside and leaving the inside raw.
Temperature gauge
Verifies your barbecue has reached the right temperature to cook your food evenly and safely, and will keep track of cooling after use.
Multiple burners and individual burner controls
Burners with individual controls allow you to manage the heat to cook different items and heat separate areas.
Side burners
Ideal for preparation of additional items, e.g. vegetables, sides and extra food.
Griddle or Grill Trays
These makes it is possible to cook smaller items that would otherwise fall through the bars of a barbecue, e.g. bacon, vegetables, fish.
Warming rack
Additional space to store cooked food and keep it warm until ready to be eaten.
Accessories
Tongs, a fork and a spatula are essential for turning food safely, as is an apron to prevent hot fat splashing and burning the chef. Flavoured BBQ smoking chips and smoking papers can be added during cooking to infuse your food with different smoky tastes, including oak, beech, whisky, and more.