Beds Buying Guide
Expert guide to beds
A key element of your bedroom furniture, not to mention your comfort during the night, discovering a bed frame or divan that matches the support requirements of your mattress will help you create the ideal combination for night after night of restful sleep.
As the foundation of your sleeping environment, investing in a good bed frame is an investment in your future comfort, after all, getting a decent night's sleep has a huge impact on your waking hours.
---
Is the base important?
The type of base you choose will have an impact on the feel of your mattress, so the correct combination of bedstead and mattress will improve your comfort and quality of sleep further. Pairing your mattress with a slatted or platform base will feel firmer, whereas a sprung divan has more flexibility.
After too many years of service, an old divan bed will develop worn areas and will be noticeably less supportive as sunken areas appear. Similarly, broken slats in your bed frame will lead to poor quality support and discomfort.
Finding the ideal combination of divan or bed base and mattress will give you the correct levels of support for a comfortable night of rest.
---
What size is best for me?
The size of your mattress and bed are designed to match up perfectly, so there shouldn't be any sizing surprises. If you're sharing your bed, sizing will play a big part in creating an agreeable sleeping environment for you and your partner. Avoid the discomfort of dangling feet over the end of the bed by buying a bed frame that is 10-20cm longer than the tallest user, and allow enough width for elbow room for two.
To get the most from your bedroom space during non-sleeping hours, consider if you'd benefit from additional storage space under your bed. This can take the form of a divan with integrated drawers, or a bedstead with room beneath to slide slim storage boxes.
Bed size chart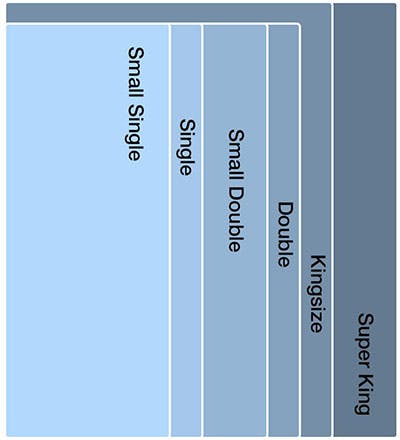 Small Single - 75cm x 190cm (2'5" x 6'2")
Single - 90cm x 190cm (3'0" x 6'2")
Small Double - 120cm x 190cm (4'0" x 6'2")
Double - 135cm x 190cm (4'5" x 6'2")
Kingsize - 150cm x 198cm (5'0" x 6'6")
Super King - 180cm x 198cm (6'0" x 6'6")
---
Bedstead features
A frame with slatted design offering varied support/flexibility
A solid frame with slats fitted across the width to support the weight of your mattress. Support comes from flat wooden slats, sprung wooden slats or metal slats.
The amount and placement of the slats in a traditional bedstead creates a firm or soft feeling of support. Closely placed slats will provide a firmer feel and better support the weight distribution for your mattress, leading to less wear and tear.
Bedstead frames are available in a wide range of styles and choice of materials like metal, wood and upholstered outers.
Divan features
Available in two styles, platform or sprung edge divan, both are made from a strong wooden structure, which is layered with their respective support type, also including a choice of fabric and storage combinations.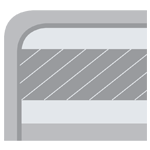 Platform Divan
Made from a softwood timber frame construction, a solid top covers the base to offer firm support to the mattress placed on top of it.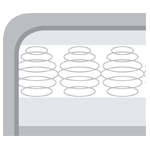 Sprung Edge Divan
An open coil sprung layer covers the surface of a strong timber base, providing a softening effect to the feel of the mattress placed on top of it.
---
Many divan beds provide room for seasonal bedding and spare bed linen by way of integrated drawers, offering a neater finish. Bedsteads often have room beneath to slide slim storage boxes and can be kept out of sight using a valance.
If you enjoy the convenience of a bedside table, bear in mind the natural placement of the item at the head of the bed will mean access to drawers at the top of the divan bed will be limited without moving the table.