Tracks & Poles Buying Guide
All the guidance you need to get the right fit
What are the differences between tracks and poles?
Tracks and poles are practical items, used to hang curtains. They both perform the same function, however, curtain poles are usually at least partially visible, therefore the designs and available ranges are wider to help create a complementary look. Tracks, using clip on gliders, are subtler and can be almost completely hidden once the curtains are closed. Underslung gliders will still be visible.
Curtain tracks are made from either plastic or metal and are used to hang and draw curtains that have heading tape. You can't use eyelet curtains or tab top curtains with a curtain track.
Curtain poles are usually made from metal or wood, and are more attractive thanks to their finials, which can range from simple styles to decorative. They also allow a wider range of curtain styles to be hung, including eyelet, tab top and pencil pleat.
---
What types of tracks and poles are available?
Curtain tracks are fairly basic, available in plastic and metal, with corded and uncorded options. Some metal tracks are also available as extendable options, therefore if your window is on the larger size, you won't need to buy two separate tracks and join them together.
Curtain poles are available in a number of different formats to suit different needs:
Fixed length pole kits
As suggested by the name, these kits come with a single pole that can be cut down if needed using a saw. If you need a longer pole and there isn't a size available, two poles can be joined together using a joiner (available separately).
Eyelet pole kits
Specifically designed for eyelet curtains, these kits don't include hanging rings as you won't need them. If you can't find the style you need in eyelet pole kit format, you can purchase a fixed length pole kit and discard the rings.
Extendable poles
To get the exact size and fit for your window and avoid cutting poles down, an extendable pole kit is the ideal solution. Made from two interconnecting poles, one is slightly narrower than the other so that it can slide into the larger pole and be adjusted to the desired length, then secured in place by the brackets.
Wood pole kits are available in fixed lengths. Like metal poles, they can be cut down or increased in size by joining two poles together, but unlike metal curtain poles they aren't available as extendable options. Wood pole kits usually contain matching wooden curtain rings, but can also be used with eyelet curtains. If you want to avoid unwanted curtain rings, look out for wood pole kits designed for eyelet curtains as rings won't be included.
---
Are they compatible with all curtain types?
Pencil pleat curtains with header tapes can be used with curtain rings on poles, whilst eyelet or tab top curtains can be used directly on the pole without the use of rings.
Curtain tracks are suitable for hanging curtains with header tape, by attaching curtain hooks to the gliders. Plastic tracks will carry light to medium weight curtains, while metal tracks will support heavier weight curtains.
Curtain poles are available in various diameters – smaller diameters (below 19mm) are suitable for light to medium weight curtains, whilst larger diameters (28mm and above) can carry heavier weight curtains.
Lightweight suspension products, such as café rods and net rods are suitable for voiles, nets and lightweight curtains only.
Curtain Weight Chart
This guide is based on a 150cm track/pole (Weight per set of curtains)
Extra light - 0 to 1kg
Light - 1 to 2kg
Medium - 3.5kg
Heavy - 3.5 to 6kg
Extra heavy - 6 to 9kg
---
Track vs. Pole – which is better?
Curtain poles are more visible, and are therefore more decorative by design as they form part of the look of your window dressing. There are many colour options and a selection of finial accessories available. Our Mix & Match pole range demonstrates how adaptable curtain poles can be. Most curtain types can be used with a curtain pole, using different hooks or rings.
Curtain tracks offer less variety and are usually white in colour. They're designed to be purely functional, ensuring the focus is on your curtains. If you'd prefer the hanging method to remain subtle and unseen, curtain tracks are for you, as they will be almost entirely out of sight once your curtains are closed. If you have a bay window, plastic curtain tracks are often an ideal solution. They provide much needed flexibility for your bay window's bends, are much easier to cut, and the brackets can usually be wall or ceiling fixed. Tracks are often more discreet than poles as the brackets don't extend as far from the wall or ceiling.
A bay curtain poles isn't as simple to install as a curtain track, however the kit will contain all the fixtures and fittings needed, and includes full instructions. Once installed, a bay curtain pole creates a decorative statement, so if you want to make an impact, it may be worth a little extra effort.
---
Materials and finishes
Metal poles are available in a number of finishes, ranging from slightly matte brushed effect to glossy. Popular finishes for modern decors include satin steel and chrome, whereas antique brass, vintage effect and painted finishes are also available for a more traditional look.
Wood poles are available in array of natural looking finishes which allow the inherent beauty of the material to shine through, or painted and stained finishes for more range.
Tracks are only available in white as they are partially or fully concealed during use, and are therefore intentionally understated.
---
Styles of poles, rods and rails
Other window treatment options also available:
Net Curtain Wire
Net curtain wires are made from slim plastic-coated steel spring wire. Suitable for use with lightweight voile or net curtains, they include accessories for fixing.
Net Rods
Suitable for lightweight voile or net curtains, net rods are made from metal and are extendable. They can be fitted using the included screw fixings, or you can buy self-adhesive fixings separately.
Tension Rods
No tools are needed for this adjustable and fixing-free method. The twist and fix body of the metal rod is spring loaded, using tension and rubber ends to hold it in place within the window recess. Tension rods are also suitable for lightweight voile or net curtains use.
Café Rods
Decorative and extendable, these delicate looking metal poles rest on brackets and are used with lightweight voile or net curtains. Brackets and fitting instructions are included.
Bay Poles
Designed to make fitting a bay window easier, a bay pole kit will help you navigate those tricky corners. Each kit contains poles, standard brackets and standard rings for either end of the window, pass-over brackets and pass-over rings to support the pole whilst allowing the curtains to move freely, corner joints, and a pole joiner, along with full fitting instructions and fixings. If extra bends are needed, spare brackets, rings and corner joints are available separately.
Valance Rail
Made to hide curtain tracks, a valance rail projects 15cm from the wall and can be fitted independently around an existing curtain track on a straight wall. Made from steel, a valance rail will support light to medium weight fabric valances, and come complete with valance hooks, brackets, fixings and instructions
---
Pole & track sizes
Standard lengths and diameters
Café Rods
Diameters - 10/12mm, 13/16mm
Lengths - 50-75cm, 75-120cm, 120-215cm
Wood Poles
Lengths - 120cm, 180cm, 240cm, 300cm, 360cm
Metal Poles
Diameters - 16/19mm (Extendable), 19mm, 25/28mm (Extendable), 28mm, 29mm, 35mm
Fixed Lengths - 120cm, 180cm, 240cm, 300cm, 360cm
Extendable - 70-120cm, 120-210cm, 180-330cm, 210-360cm
Curtain Tracks
Plastic Tracks
Lengths - 100cm, 125cm, 150cm, 175cm, 200cm, 225cm, 250cm, 275cm
Extendable Metal Tracks
Lengths - 1.2m-2.2m, 1.7m-3m, 2.2m-3.8m
---
Curtain pole accessories
Rings
You can give your curtain heading a more gathered look by using additional curtain rings.
Using lined rings is beneficial for metal curtain poles as the nylon coating provides a smooth, silent gliding motion when opening and closing your curtains.
Curtain rings can also be used with pencil pleat curtains, where the curtains will hang beneath the pole.
Finials
The term 'finial' is used to describe the decorative object found at the end of the curtain pole. They also have a practical element, as they will stop your curtains from falling off the end of the pole. They are available in a range of materials and styles to create a highly decorative finish. Materials used for finial ends include metal, acrylic, glass and ceramic in many different colours and finishes.
Mix & Match curtain poles offer the widest selection of finial ends to suit your taste. All finials in the Mix & Match range are sold in pairs, and are available in 16/19mm and 25/28mm diameters.
Holdbacks
Available as pairs or singles, holdbacks are fitted either side of your window to keep curtains in place. Available in metal or wood, they can be coordinated with your finials to create a complementary look. As part of our metal Mix & Match 16/19mm diameter range, the finial ends can also be added to the 16/19mm holdback arms, to create a perfectly matched set.
Tieback Hooks and Curtain Dressers
Used with your wooden or metal curtain wall hooks, decorative tieback hooks are available in pairs and simply loop over the hook, around the pulled-back curtain, and back over the hook to hold your curtains in place.
Curtain Dressers
Available in wood or metal to match your curtain pole finish, curtain dressers fit to the wall and extend a few centimetres outwards to provide a place to drape your curtains and effectively hold back the fabric.
Brackets and Joiners
We recommend using 3 brackets for curtain poles longer than 180cm to achieve a secure fit. Brackets supplied in our metal pole kits are 'face fixing', which means they should be fitted against a wall. If ceiling fixing is required, these brackets can be purchased separately.
Joiners are found in all two piece pole kits and are used inside the ends of the poles to join the two lengths together. We recommend using the centre bracket to cover the join, to provide stability and a neater finish. Additional brackets are available as accessories.
Draw Rods
Draw rods are used for opening and closing curtains, and can be used with poles or uncorded curtain tracks to protect your curtain fabric from day to day handling and reduce wear and tear. They easily clip on to the curtain hook or header tape at the edge of the curtain.
---
Fitting your curtain pole
The majority of curtain poles will only include 'face fix' fittings, to be attached to walls. If you need to fix your curtain pole to the ceiling, you'll need to buy ceiling fix brackets separately. To ensure maximum light control, positon brackets correctly above and to each side of the window recess. We recommend your pole is 15cm above your window and extends 15-20cm either side.
Suggested Minimum Fixing Distances
The fixing distances are a guide and are largely dependent on the diameter of the pole and the amount of space around your window.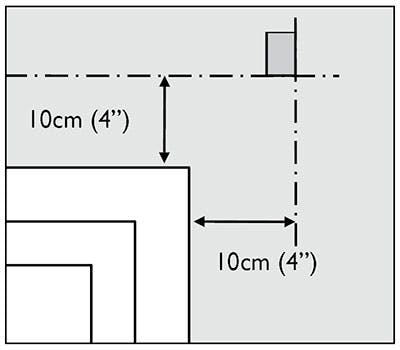 Fixing a curtain pole to a wall (face fixing)
The screws and plugs supplied with your product may not be the most suitable for your wall type. If in doubt, contact your local store.
Masonry Walls
Use the correct masonry drill bit size. This is important as you need a tight fit between the wall and plug. The drill hole should be the same diameter as the wall plug to ensure that your pole is firmly secured.
Plasterboard or Cavity Walls
You'll need specialist plasterboard fixings to attach your pole, and take extra care as plasterboard can damage easily and is more difficult to repair.
You may need to install a wooden batten to give better support to the product. If so, remember it needs to be larger than the bracket fixing plate to ensure that the bracket can be fitted correctly.
Tools required
You will need:
Cutting or sizing your pole
The pole length stated on the pole kit pack does not include the 'finial end'. Bear this in mind before you reduce the size of the pole.
All metal and wood poles can be cut down to size, but remember that once cut, they cannot be returned to store. If you're looking for a solution that doesn't need DIY skills, extendable poles can be sized and resized as needed without cutting.
To cut down your pole you'll need a good quality sharp hacksaw and a vice to hold it steady during cutting. Use a file to remove rough burrs from the ends of cut poles to avoid personal injury or damage to your curtains.
Single piece poles should only be cut from one end. Two piece or split length poles which are being joined together should be cut by equal amounts from each end to ensure the join is correctly positioned in the centre and covered by the middle fixing bracket. The join MUST always be in the centre.
At least one ring should be positioned outside of each end bracket next to the finial. This is to keep the outside edge of each curtain securely in place during use.
---
Fitting a curtain track
Tracks can be ceiling or wall fixed. All Dunelm tracks can be cut down to size using a fine tooth hacksaw, and a vice to hold it steady during cutting. If you're cutting two tracks down to join them together, cut equal amounts from each end, not the middle. Extendable metal tracks offer a tool-free option for the DIY shy, and can be adjusted multiple times to get the best fit.
Using tracks in conservatories
All PVC tracks distort under excess heat, therefore they are not recommend for use in conservatories. Metal tracks are more robust and effective in warm environments, and are therefore better suited to this kind of room.
Special fixing requirements
Plastic tracks require more fixing points than their metal counterparts to provide the best support, and you might find it easier to level and install a track with the use of a batten.
If a track is to be fitted to PVC or aluminium window frames, contact your window supplier for advice about specialist screws.
---
Measuring and fitting around a bay window
To measure for the right length of track, you first need to fix the brackets in their correct positions.
Using a flexible steel rule, start measuring from the centre and work your way outwards. As you move around the bay window, bend the rule as if it were a track and measure the length (as shown by the dotted line in the diagram).

Single piece tracks
For single piece track installation, start from one end of the window and gently bend the track as you move around the bay. To avoid slipping, hold the track in place by locking the brackets as you go. Once this is complete, trim any excess from the end and carefully file down any rough edges.
Two piece tracks
Two piece tracks which have been joined together should be installed from the centre moving outwards around the bay. Once installed, trim off any excess from both sides, and carefully file the rough edges. The join must always be in the centre and supported by a bracket.
Helpful tips
• Extra brackets may be needed when fitting a track around a bay window.
• A warm track is easier to bend, however, they should never subjected to extreme or direct heat e.g. hairdryer.
---