Measuring for Curtains

Measuring for Curtains
Getting the right measurements for your curtains is easy, just follow our step by step guide
Before you start
Have a steel tape measure ready, and something to write all of your measurements down as you go along.
The track or pole should be 15-20cm above your window, and 15-20cm either side.
Top Tip:
If you have a track or pole already fitted, ensure you measure the full width. If you don't have one in place yet, measure the width of your window recess and allow for any overlap, we recommend adding 30cm.
How to Measure
If you already have a track or pole in place, you may need to measure slightly different for eyelet or pencil pleat curtains;
---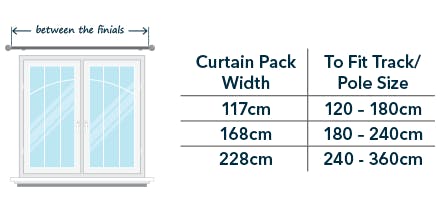 ---
You will also need to consider the type of drop and look you are going for;
---
Top Tip:
Curtains can be altered to the perfect drop (also known as length) through our in-house M2M service, please discuss instore at the M2M service desk.
---
Which Curtain Size?
You will need to measure the full track or in between the finials on a pole. There are 2 curtains included within each pack.
For example, using the below guide, for a pole measuring 120cm you will need to buy a pack width of 117cm. This will give you a curtain pair with a full pleat look.
---
Top Tip:
You might not want such a full look, so rather than double the width, you could go x1.5 for a more relaxed finish. For example, with a pole measuring 180cm you can go for a relaxed look (not as much fabric) with a 117cm pack, or go for a full pleat look with a 168cm pack.
---
How to Care for Your Curtains
Some of our curtains are tightly packed, so upon opening may require a light iron. Read the care instructions for details of temperature and whether this can be done on the face or reverse of fabric.
For pencil pleat curtains, make sure you are happy with the curtain design and colour before pulling the strings, as returns will not be accepted after this point.
Most of our curtain ranges are dry clean only and will include all detail of this on the care label.
Pencil pleat curtains will need all hooks removing, and strings un-tying before sending off for dry cleaning.
Top Tip:
The majority of our curtains hold the Green Earth dry clean logo on the care label. Developed to take care of your textiles better than any traditional methods, Green Earth is the world's most sustainable form of dry cleaning. Customers will receive a 10% discount when you clean your Dunelm product the Green Earth way through Johnsons dry cleaners.
---
Need more help? Try our quick video
---
Dunelm's ready made curtain dimensions
All of our ready made curtain sizes are labelled with 'width by drop' sizing, so the first number is always the measurement across, and the second is always the measurement down.
Our ready made curtains are sold in pairs, and the size refers to each individual curtain. For example, a pack of curtains labelled W 117cm X D 137cm will contain two curtains each measuring 117cm by 137cm.
---