Towels Buying Guide
Find out why thread type and GSM makes a difference to the quality of your towel
End your relaxing soak in the bath or refreshing shower with something soft and sumptuous from our wide range of towels. Comforting and absorbent, find the right towels for your home with our guide to towel terms and types.
---
What is GSM?
'Grams per square metre', or GSM as it's more commonly known, indicates the density of the material and gives some indication of how thick, absorbent and luxurious feeling your towels will be. These initials are a common sight on fabric products, particularly high-end.
The higher the GSM, the thicker and more absorbent the towel, as there will be more loops or longer loops present than in lower GSM towels.
---
Towel size guide
Below are the approximate dimensions for our Egyptian Cotton towels. Please use this as a guide, but be aware our other collections might be slightly different.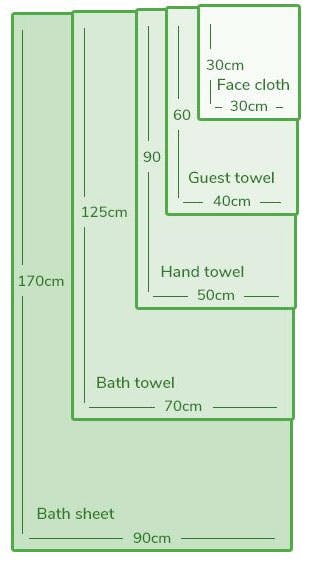 Face Towel - 30cm x 30cm
Guest Towel - 40cm x 60cm
Hand Towel - 50cm x 90cm
Bath Towel - 70cm x 125cm
Bath Sheet - 90cm x 170cm
---
Caring for your towels
Washing
We recommend that all towels should be washed before use, and always follow the care instructions included. Keep light and dark washes separate to avoid dulling, and use fabric softener sparingly as it can reduce the absorbency of the towel over time. Tumble drying your towels on a low temperature will fluff up and open the fibres to enhance softness.
Pulls
If your towel develops a pull, trim the loop with a pair of scissors to stop the strand from getting caught and pulled further. If you notice a high number of pulls in your towel, it may be worth checking inside your washing machine or tumble dryer as sometimes a sharp edge inside the drum may catch fibres and cause loops in towels and garments.
Cleaning products
Harsh cleaning products and bleaching agents as well as some toiletries and skin treatments may damage your towels by breaking down the fibres and stripping off the colour. Rinse your skin well after using skincare products before drying off.
---