Lighting Buying Guide
Lighting can make a big difference
Not only a practical consideration, lighting makes a big difference to the way you use your home and goes a long way to influence the mood in the room.
Using a mixture of fittings to create different lighting effects can give your living space fantastic versatility, so don't be afraid to experiment.
From light bulb types and brightness to light fittings, shades and lighting safety, our expert guide to lighting your home will help you narrow down your options.
---
Bayonet - This is the most common type in the UK. The metal bulb cap has two prongs, which the user fits into two reverse 'L' grooves in the socket, using a "push and twist" action. All UK domestic pendant ceiling fittings fit this type of cap.
Edison Screw - The two most common sizes are Edison Screw (ES), which is 27 mm diameter and Small Edison Screw (SES), which is 14mm diameter. This bulb simply screws into a thread inside the socket.
Capsule - The bulb is small has no metal cap, instead there are two delicate prongs protruding from the bottom of the bulb and is fitted by pushing into two corresponding holes in the light fitting. All Dunelm fittings which use capsule bulbs come with an initial supply.
Twist Lock - These caps are used in Halogen Spotlights. They also have two prongs, but are fitted by a "push and twist" action. These are often used in ceiling fittings that are fitted flush to the ceiling and are housed in a circular case. To change these bulbs, the circular case needs to be unscrewed from the housing which is unseen and sunk into the ceiling. The bulb is usually held by clips, which can be undone, before removing the bulb with a gentle twist and pull.
Incandescent - Also known as Tungsten bulbs. Although cheap, incandescent bulbs are considered inefficient; typically only 5% of the energy used is converted to light. Incandescent bulbs have been phased out by the EU in favour of more long lasting and energy efficient light bulbs.
Energy Saving - Also known as a Compact Florescent Light (CFL). They come in two common shapes; Tubular and Helical. Although these bulbs do not produce the same brightness as an Incandescent, CFLs use about a third less electricity and last between eight to fifteen times longer.Energy saver bulbs are dimmer when first switched on but brighten to full beam in a matter of minutes.
LED - Light Emitting Diode (LED) bulbs are typically smaller, robust and energy saving, with fast switching times. They are usually favoured for accent lighting and battery powered applications, as LED bulbs that are powerful enough to provide room lighting can be expensive.
Bulb compatibility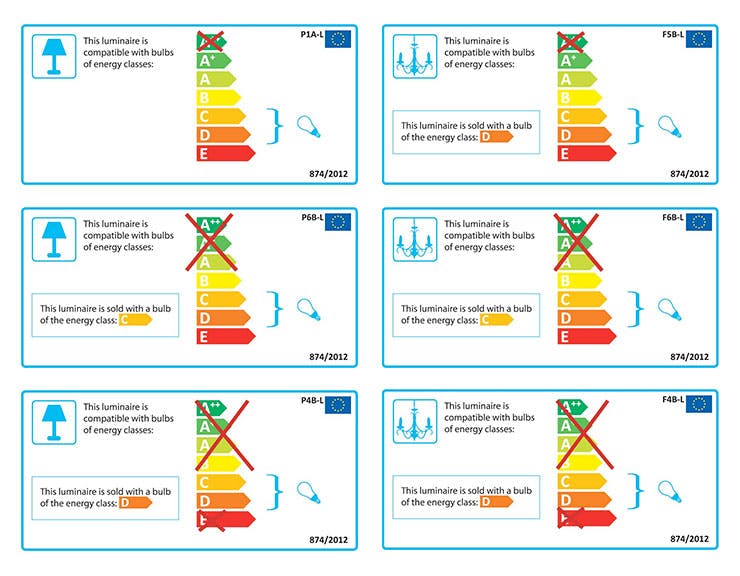 Wattage vs. lumens
Wattage and Lumens are both units of measurement. Wattage is the amount of energy required to produce light, while the lumen rating reveals how much light is produced. The higher the lumen rating, the more light you can expect.
The recommended Wattage provided with your light fitting should always be your first consideration when buying light bulbs as heat is created when the two are connected. If a bulb has a wattage that is too high for the fitting, too much heat will be created which can make the fitting unsafe.
All Dunelm fittings are tested for heat and light generation and clearly display a maximum Wattage recommendation.
---
Lighting effects
Ambient - Ambient light mimics the effect of natural light. Commonly used in living and dining rooms as well as bedrooms, ambient lighting creates a soothing soft focus illumination that aids relaxation.
Task - Task lighting provides a bright light focused on one area to provide excellent visibility. Frequently seen in the form of desk lamps to aid reading, or recessed ceiling down-lighters in the kitchen, localised light sources allow precision work to be conducted without eye strain.
Accent - Accent lighting is the most creative of lighting effects. Not intended for functional use, accent lights create drama in a room by highlighting key features like an alcove, or a wall-hung picture. Accent light is ideal for use in conjunction with ambient light in the living room to give greater flexibility.
---
Switches, dimmers and timers
Wall switch - Designed to operate wall or ceiling lights, wall switches are placed approximately 15cm from the door to give easy access when entering or leaving a room. Usually made from plastic or metal with a single or double mechanism for controlling lights, the wall plate keeps any wiring hidden in a recess behind.
Dimmers - As the name suggests, dimmer switches alter the brightness of your light to change the mood of your room. Three types of dimmer exist: touch, switch and remote. Touch dimmers have preset light levels that can be activated when touched. Switch dimmers have a sliding or rotating switch to provide full flexibility of brightness. A remote dimmer provide the same range of brightness and is often programmable to provide preset lighting effects at the touch of a button.
Timers - Either digitally or mechanically operated, these turn lights on or off over a 24-hour or 7-day period. Such changes in light can make an empty building appear occupied, so light timers are often seen as a valuable security measure.
ⓘ All switches and dimmers have maximum wattage ratings. This is the maximum total wattage of all the lights wired to it, rather than the wattage for each individual light.Also note that some mains halogen lights require dimmers that run at double their total wattage. Read product instructions fully before installing and consult an electrician if in any doubt.
---
Lights and shades
Shades
Designed to diffuse the glare of a naked light bulb, light shades are available in a wide range of colours, fabrics and styles to become a key element of your decor. While often chosen for their decorative qualities, the level of transparency is also important as this dictates how the light disperses through the room.
The most common types of light shade shapes include:
---
Drum - Cylinder shaped and usually open at the top and bottom, drum light shades throw light upwards and downwards to offer the brightest option for ceiling lighting.
Cone - Similar to drum shades but with a tapered shape. Cone shades become 'uplighters' when inverted, casting light towards the ceiling to reduce shadow and glare. Uplighters should be avoided in rooms with low ceilings, or exposed beams.
Multi Shade - Used when ceiling lights have more than one bulb, multiple shades are mounted upon a single frame to create a cluster or row. The shades are usually made from the same material and are included with the fitting.
Pendants - Featuring a more sculpted body and designed to create specific lighting effects through their shape, pendants fit onto ceiling fittings to deliver a more focussed light source.
Indoor Lights
Fixed and recessed lights
Most frequently used as spotlights, they can be used individually to highlight, or as a series to create a feature. Fixed lights can be recessed into an object, ceiling, wall or floor or be mounted onto fixtures which can provide variable tilt, or reflection. Fixed lights have a variety of uses:
Drawing attention to a decorative element or design feature
To 'wash' walls with light, creating the illusion of a larger and more open living space
Providing focussed light for conducting activities like reading or food preparation
ⓘ LED bulbs are best for recessed floor lighting as they stay cool during use. Halogen bulbs produce too much heat and should not be used for this purpose.
Flexible lights
Mounted to a movable arm to deliver a versatile beam of light, flexible lights are a practical addition by focussing light on a particular area. Commonly used as desk lamps, adjustable lights can also be used in wall and ceiling fittings to create the perception of a larger space.
Outdoor Lights
Outdoor lights fall into two categories:
Battery/Solar
Commonly used in outdoor novelty lighting using LED bulbs, battery powered lights and solar lights are cheap and easy to maintain. Valued for creating mood lighting rather than illuminating large spaces, the gentle glow of garden lights provides a delicate illumination. To get the best from your solar lighting, position the solar panel to receive the maximum amount of direct sunlight during the daytime.
Electric
Connected to mains electricity as the power source, halogen bulbs are more suited to these garden lights. A variety of styles are available and are perfect for illuminating walkways, highlighting landscape features or providing security. Some mains outdoor lights are fitted with a Passive Infrared Sensor (PIR), which detect motion and activate the light.
Whichever type of outdoor lighting is used, safety must always be the primary consideration. Wiring should be well insulated and weatherproof. If you have any concerns about the safety of your outdoor lighting, we advise consulting a qualified electrician.
Frequently asked questions
Can I fit energy saving bulbs to a dimmer switch?
Most energy saving bulbs aren't fully compatible with dimmer switch circuits, though a growing range of dimmable CFLs is available. There are a few energy saving bulbs that can be used with 'staged dimming', but this requires a special kind of dimmer switch.
Should I choose a flush ceiling light or one with a chain?
Consider the height of your ceiling. Many new houses have slightly lower ceiling heights and may require flush or semi-flush lights to avoid the inconvenience of constant ducking. Always check the maximum height of light that you can accommodate before choosing your lights and check the dimensions on the light fittings for their height. Lights that hang from chains are adjustable by removing links to reduce the hanging height.
What size shade should I buy for my floor or table lamp?
Floor lamps or standard lamps normally require a much larger shade, 18", 20" or 22" in diameter are the usual sizes.
Your shade also needs to sit at the correct height on your floor lamp. As a rule of thumb the bottom of the shade should just cover the light bulb or lamp holder, when looking at eye level. If the shade needs to be raised up this can be done by using an inexpensive shade carrier, available in various heights.
Dunelm's floor lamps usually come complete as matching base and shade, so we will already have taken care of the sizing and compatibility for you.
Can I do my own electrical work?
According to UK law, electrical work should only be undertaken by a 'competent person'. This is normally a qualified and insured electrical contractor, though the HSE (Health and Safety Executive) runs a registration scheme for keen DIYers who want to get approved.
Enlisting the services of a qualified (e.g. NICEIC registered) electrician does not have to be expensive, and will give you peace of mind, therefore we recommend you budget for professional advice and service.
What are 'Class 1' and 'Class 2' products?
Class 1 products come with 3 wires in the power cabling; Live, Neutral and Earth (green and yellow). Class 2 appliances have only the Live and Neutral wires. This is because Class 2 products are double insulated and do not need an Earth wire. Class 1 products are not marked, but Class 2 products carry the Double box logo:
In general, most Dunelm Floor and Table lamps are Class 2, whereas most of our Wall and Ceiling Fittings are Class 1.
---