Rugs Buying Guide
You'll be surprised at the difference a rug can make
How our Rugs are Made
How machine made rugs are made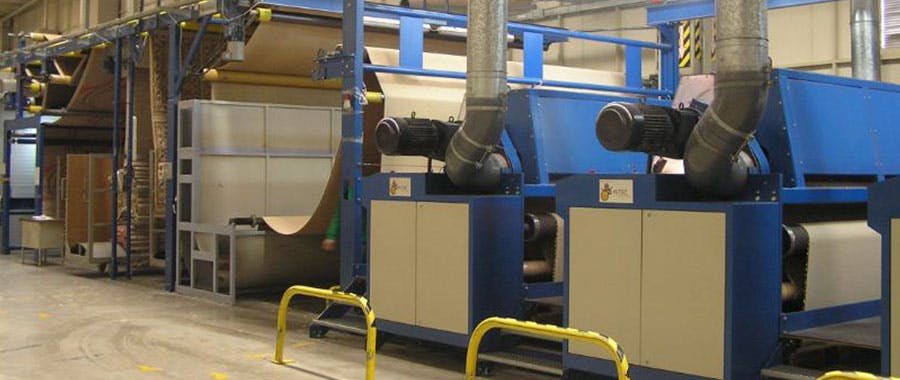 We import machine made rugs from Turkey, Belgium, China.
Made using polypropylene, wool, polyester, viscose, acrylic, and nylon.
Our wool comes from sheep in India and New Zealand and sometimes alpacas.
Made on power looms using an automated system of bobbins set with coloured yarns. The yarn is fed into jute backing before latex and heat are applied to secure the fibres. The rugs are made in large 4-metre-wide rolls which are quality checked before being cut to size, hand carved and having their edges bound.
Benefits of machine made rugs
Stain repellent - Machine made rugs are often manufactured with synthetic yarns (such as polypropylene and nylon) which do not absorb stains or moisture.
Colour Fast - Polypropylene yarn starts life as plastic chips, so the colour is incorporated within the fibre itself. This makes machine made rugs completely colour fast and fade-resistant.
Wipe clean - Animal hairs, dust and lint will not cling to the rug fibres, making it easy to vacuum regularly or blot clean if you spill wine or food.
Long life span - Machine made rugs are more resilient and hard wearing.
Great value - Machine made rugs often cost less than handmade rugs as they can be made faster and have lower manufacturing costs.
How handmade rugs are made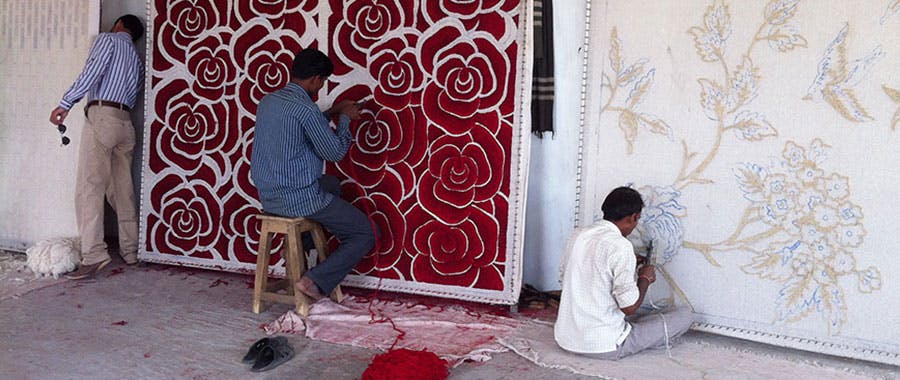 How machine made rugs are made
Hand Tufted - The design is hand drawn onto graph paper, then printed onto cotton backing cloth. The yarn is dyed in drums and air dried, then the hand tufting begins. The rug is finished by hand-sewing the edges and shearing the surface with scissors or an electric blade.
Hand Loomed - The yarn is spun by hand and put onto bobbins, which are then threaded onto the yarn loom. The loom is operated by two people to manually loop the yarn around metal rods. This method only works for plain or striped designs, but is the fastest handmade option.
Pit Loom - A horizontal weaving process that allows one weaver to create an entire rug by operating two peddles on the floor and compressing the yarns with their hands. Pit loom rugs are so densely woven they do not need any backing.
Punjab Loom - Similar to the pit loom, but upright instead of horizontal, the punjab loom requires single person use and can be used to create more complex patterns than the pit loom.
Handknotted - Made on a specialist loom and knotted completely by hand, the rug weaver places lots of carefully knotted pieces of yarn into the foundation of the rug to create the pile. This is a very time-consuming process, so depending on the size of the rug they can take months or even years to make.
Table Tufted - Tufted by hand using an electric sewing machine with up to 12 needles. Two people are needed to operate the sewing machine and control the tension of the yarn and foundation.
Benefits of handmade rugs
Individuality - Each rug reflects the rich weaving traditions of the area in which it is made and the specialism of the individual weaver.
Wide colour selection - Hand made rugs are available in a wide variety of vibrant and rich colours, patterns and designs, as each yarn is dyed individually.
Energy efficient - If your handmade rug is made from wool, it will help to keep your home warmer. Wool is naturally insulating, so it's warmer in the winter and cooler in the summer, making your home cosier as well as reducing heating bills.
Sound insulation - Wool rugs can also reduce sound and help to minimise noise from room to room. The soft pile cushions the impact of footsteps or furniture movement by absorbing and muffling sounds.
---
Care Instructions

Wool - While they are quite stain and water repellent, they need gentle handling when cleaning – use a hand brush or nozzle attachment on your vacuum.
Cotton - Ideal for kitchens, living rooms and dining rooms, cotton rugs are easy to look after and can be brushed or vacuumed.
Polyester, Acrylic, Nylon & Polypropylene - The easy care fibres of synthetic rugs are particularly durable, so you can brush or vacuum the surface as necessary. Synthetic shaggy rugs can flatten over time.
Viscose - As a semi-synthetic material, a viscose rug should be handled carefully. They can be damaged by moisture, so better suited to lower traffic areas and cleaned with a hand brush or vacuum with a nozzle attachment.
Natural Fibres - Made from eco-friendly plants and grasses, natural fibre rugs are very durable making them ideal for high traffic areas like hallways, or areas where moisture and spills are more likely, like kitchens, dining rooms and conservatories. They can be brushed or vacuumed.
Chenille - Chenille rugs can be made from cotton or synthetic fibres, and are designed to mimic the luxurious softness of silk which makes them more delicate, and not suited to areas of high traffic. They can be carefully cleaned with a hand brush or vacuum fitted with a nozzle attachment.
---