Pots and Pans Buying Guide
Get the knowledge you need to choose these kitchen essentials
Whether you're just starting out with your first kitchen or replacing existing cookware, the material used in the body of your pan will have a big impact on its performance and longevity.
Familiarising yourself with the basics of pan materials and uses will make sure your culinary needs are met.
---
Getting to know your pans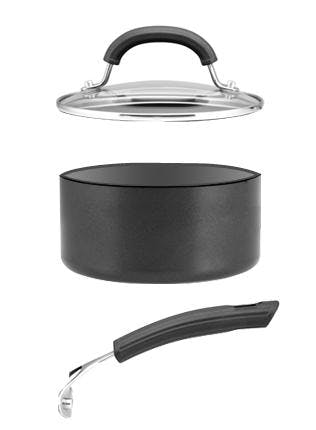 Lid
Though not all pans come with a lid, they come in handy when cooking to retain heat and steam. Most commonly used with saucepans and stockpots, lids should have vents to prevent pressure build up. Glass lids are a popular choice as they make it possible to view the progress of your cooking without the need for removal.
Body
The material used in the body of your pan will determine how efficient your food will heat, how the heat will distribute through the material and how long your pan will last.
Handle
Securely welded, riveted, or screwed onto the body of the pan, handles and handgrips make your cookware easier to manoeuvre around the kitchen. Shapes can vary, sometimes incorporating ergonomic design with textured and soft touch grips to improve comfort.
---
Pan materials
Aluminium
Excellent at conducting heat
Lightweight and easy to handle
Aluminium pans are very affordable so make a great starter set of saucepans if you're not sure of your needs, or if you'd like to try out a specialist pan in the kitchen without committing to a big investment. As a softer metal, aluminium pots and pans are not as long lasting as other materials and can react with acidic foods. While conveniently quick to heat up, aluminium pans are not suitable for use with very high temperatures. Hard anodised pans offer a hardier alternative.
Stainless steel
Resistant to rust and corrosion
Though non-reactive to acidic foods and resistant to warping, stainless steel pans need a helping hand when it comes to heat conductivity. A thoroughly versatile and durable material, stainless steel is not naturally suited to conducting heat and can lead to hot spots as the heat struggles to radiate evenly. To compensate for this, stainless steel pans are frequently combined with a highly conductive aluminium or copper base or core.
Hard anodised
Twice as hard as stainless steel
Non-stick and scratch resistant
An aluminium core for excellent conduction distributes heat through the base and sides of the pan for faster cooking. The 'big brother' of aluminium pans, hard-anodised cookware has undergone a process to increase the natural oxide layer on the surface of the material, to making it non-porous and non-reactive. The anodisation process makes the pans longer lasting and less susceptible to corrosion, while also providing anti-stick properties that are an asset during cooking and cleaning.
Copper
High shine professional look
Highly responsive to heat for great control
Copper pans are extremely adept at conducting heat quickly and evenly, making them a favourite in professional kitchens. The high quality materials and performance puts them at the premium end of the cookware spectrum, so are a good investment if you intend to use them frequently. Our copper tri-ply pans combine the benefits of three materials, utilising an aluminium core to eliminate hot spots and lined with a corrosion resistant stainless steel lined interior to improve durability.
Ceramic
Non-stick and PTFE fee surface
Aluminium base for even heat distribution
Coated with a PTFE free non-stick ceramic coating, ceramic pans feature a metal core for excellent all-over heat distribution. Resistant to scratches and abrasions, the superb non-stick quality of the ceramic surface is ideal for a healthier lifestyle as little or no oil is required during cooking, ceramic coatings also provide easy cleaning after use.
Cast iron
Exceptional heat retention to keep food hot for longer
High heat resistance makes cast iron cookware suited to both hob and oven use. Cast iron pans take longer to heat through, making them perfect for letting flavours develop slowly over a longer cooking period. Ideal for oven to table use, excellent heat retention means cast iron pans take their time to cool, thereby keeping your food hotter for longer once removed from the heat.
---
Hob types and compatibility
Hob type is determined by more than whether they're powered by electricity or gas. Some hobs are only suited to use with specific types of cookware materials. If you don't ensure your saucepan or frying pan is compatible with your hob type, you can risk damaging both the pan and appliance.
Gas Hobs
A clearly visible heat source and easy controls make gas hobs a popular choice. Built-in ignition, whether automatic or manual, makes lighting simple. Many gas hobs include safety features such as automatic re-ignition or gas cut-off in case the flame is blown out.
Gas hobs transfer heat in a ring beneath pans, rather than full-contact heat with the pan that can be achieved with an electric or ceramic hob.
Compatible with:
Electric Sealed Plate Hobs
Another traditional option is the electric hob, featuring 4 rings that conduct heat fully and evenly to the pans. Suited for use with any flat based pan and cost effective to use, the way the heat source makes contact with cookware means there is less energy wastage.
Compatible with:
Ceramic Hobs
With their smooth glass surface, ceramic hobs are easy to use and clean. Quick to reach cooking temperature, the heat conducts to the pan from electric power heating elements beneath the glass. All ceramic hobs use residual heat displays to show when the hob temperature is still too high for safe contact and cleaning.
The heating elements beneath the ceramic surface come in different forms, including halogen and radiant ring, so look out for pans that state suitability with these types.
Compatible with:
Induction Hobs
Using a magnetic field between the hob's induction element and the pan, induction hobs heat the pan only, not the cooking surface. Faster and more cost effective than other electric hobs, with more precise heat control than gas hobs, an induction hob requires specifically compatible pans with ferrous iron content that allows a magnetic field to be created.
Compatible with:
ⓘ Copper pans cannot be used with an induction hob
---
Coatings
Non stick
As the name suggests, this plastic coating is used to make sure whatever you create with your pots and pans can be easily removed. Non stick pans require little or no oil during cooking, so they're a healthier and convenient addition to the kitchen during both cooking and cleaning.
ⓘ Teflon® is the brand name for the original non-stick coating
Enamel
A layer of enamel can be added to steel or cast iron to remove or reduce the need for oil before use. The enamel protects the metal underneath from tarnishing and rusting while creating a non-stick surface for easier cooking and cleaning.
---
What's best for me?
Your choice will be determined by factors like budget, cooking purpose and frequency of use, which will give you an idea of how much value you'll get from your purchase.
If you're starting out, a set of saucepans and a frying pan will cater for most needs until you're up to speed on what and how you cook most frequently. If you're looking to upgrade your collection or add new pieces, your choice of pan materials will play a bigger part as well as speciality cookware designs.
Frequently used items are the core of your kitchen kit, so it's worth investing in quality materials that will last. Cookware that is only used occasionally or is part of a new culinary venture won't be relied on heavily, so high-end materials may not give you value for money. Something more affordable but less long lasting is fine for irregular use or experimentation and you can always upgrade to premium pieces once you're confident of their place in your kitchen.
---