Mattresses Buying Guide
Get the support you need
We spend around a third of our lives sleeping, which means you'll be spending a lot of time with your mattress over the years and it's no surprise that finding the right one will improve your quality of sleep, as your body is in direct contact with the mattress throughout the night.
Select the correct mattress for your needs and you'll have the best chance at getting your 40 winks and improve your productivity and well-being during the day. Buy the best quality mattress you can afford and pair it with a bedstead or divan that provides complementary support for the perfect starting point for sleep heaven.
---
When should I replace my mattress?
A good quality mattress should provide between 8-10 years of consistent performance and provide appropriate support. It's recommended that you change your mattress as the repeated usage can cause uneven compression leading to uneven support and therefore insufficiently suited to provide a comfortable sleep space.
Here are some useful questions to ask when deciding if it's time for a new bed or mattress:
1. Are you frequently waking up feeling un-refreshed and aching?
2. Do you disturb your partner or are you disturbed by them when changing sleep positions?
3. Does it look used or worn?
4. Does it feel lumpy?
5. Have you recently had a better night's sleep in a different bed?
---
What firmness rating do I need?
Only you know what feels comfortable, so while we're happy to advise you on which firmness rating might work for you, a lot of it comes down to personal preference. A mattress should shape to the natural contours of your body without allowing you to sink into the surface and should provide the correct amount of support to keep your spine aligned in your natural sleeping position.
---
What comfort rating do I need?
Lie on your back and try sliding a hand between the small of your back and the mattress. Your hand should fit between with minimal resistance.
If it's tricky to slip your hand between, the mattress is too soft and your body is being allowed to 'sink' into the surface and your body won't be supported as it should, with effective spine alignment.
If the gap between your lower back and the mattress is too great, your hand will be able to move about very easily and this usually indicates the support is too firm. Sleeping on a mattress that is too firm means your body will sit on the surface rather than being cradled comfortably, and you won't benefit from the supportive pressure relief and weight distribution required for refreshing, restful sleep.
---
Front Sleepers - To prevent overarching your lower back and straining your neck and shoulders, you need to be mindful of your pressure points. Keeping your spine aligned is highly important for comfort and health, and when you sleep on your front that means support which also allows for your body to sink in to the surface. A happy balance between resistance and comfort is a pocket sprung or pocket hybrid mattress.
Side Sleeper - Sleeping on your side means you can open the shoulders or ribcage whether you lean forward or back, and although it creates pressure points on your hips and shoulders, there is less weight being applied onto each, allowing good circulation and comfort. A softer surface pocket sprung, open coil or hybrid mattress is best, as less resistance means each area of your body can sink in as needed.
Back Sleeper - Whether you sleep like an arrow or a starfish, back sleepers need to avoid too much strain on the necks and shoulders. The right level of support and resistance is integral to keeping your spine and shoulders aligned, otherwise you might wake up with aches and pains. A surface that hugs your contours will prevent rolling and turning during the night, provide support and promote correct alignment, so pocket sprung, memory foam and hybrid mattresses are perfect.
Which mattress type fits my needs?

Value Open Coil
A continuous wire spring in a metal frame that offers comfort at an affordable price.
___________________________

Traditional Pocket Sprung
Individual springs, each in a fabric pocket, that allow independent and responsive movement. Available in various spring counts and perfect for couples sharing a bed.
___________________________

Memory Foam
Conforming and sculpting to your body shape this is perfect for pressure relief.
___________________________

Foam
Contoured to allow both support and comfort, whilst offering anti-microbial properties.
___________________________

Hybrid
Luxuriously comfortable, a variety of core fillings allow optimised comfort with temperature, weight and shape responsive sleep surfaces.
___________________________

Children's Mattresses
Offering a softer feel but still supportive, a wide variety of specialist features ideal for every child's needs such as anti-allergy.
---
Which additional features can I have?
A selection of our mattresses include added extras to suit your needs

Orthopaedic
Helps keep back pain under control whilst in bed thanks to purposely-designed support.
___________________________

Anti-Allergy
Fabric treatment that offers a durable protection against dust mites.
___________________________

Natural Fillings
Materials such as cotton and wool provide benefits such as breathability and temperature regulation.
___________________________

Pillow Top
A sumptuous built-in pillow top provides the perfect added extra to your mattress for optimum comfort.
___________________________

Water Resistant
Secondary water resistant sleep surface made with a fabric treatment that protects the core from moisture.
___________________________

Cool Technology
Treatment applied to outer fabric and/or core fillings to regulate temperature and prevent overheating.
___________________________

Natural Sleep Surface
Comfort fillings and outer fabrics are made from natural materials such as cashmere, cotton, silk and wool.
___________________________

Washable / Zipped Cover
Easy to remove cover suitable for all washing machines. Please read the instructions for further details.
---
What fabric type would suit my needs?
A selection of our mattresses include added extras to suit your needs.

Quilted
Extra padding to enhance your night time comfort. Providing a flatter, smoother surface.
___________________________

Tufted Top
Provides a slightly firmer feel to the mattress and keep fillings in place, offering a long lasting supportive feel.
---
Pick the perfect size mattress for you
If you're sharing a bed, your mattress and bed frame should be 10-20cm longer than the tallest user and wide enough to allow both parties enough room to turn and fidget without disturbing the other too much.
Mattress Size Chart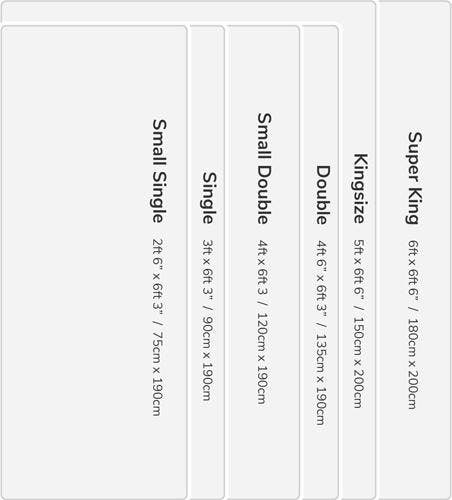 Small Single - 2ft 6" x 6ft 3" / 75cm x 190cm
Single - 3ft x 6ft 3" / 90cm x 190cm
Small Double - 4ft x 6ft 3" / 120cm x 190cm
Double - 4ft 6" x 6ft 3" / 135cm x 190cm
Kingsize - 5ft x 6ft 6" / 150cm x 200cm
Super Kingsize - 6ft x 6ft 6" / 180cm x 200cm
---
Caring for your mattress
A good mattress can last up to 10 years so it is important to understand how to care for it in order to prolong its life span and support. Remember - all mattresses are to be rotated regularly so that you are refreshing where your pressure points lie, allowing maximum comfort.

Double Sided
These mattresses are to be turned regularly in order to maintain optimum comfort.
___________________________

Rotate Only
These mattresses are to be rotated regularly in order to maintain optimum comfort.
___________________________

No Turning Needed
These mattresses have resilient fillings that won't lose their shape, so do not need to be turned.
___________________________
Mattress Care Instructions and Guidance
Before you use your new mattress, remove all packaging and place your mattress flat on the bed base without mattress protectors or bedding. This allows the mattress to air out and any scents from the fillings or packaging to disperse. If your mattress contains memory foam or latex it may need a couple of days.
Daily airing is also recommended to allow moisture to evaporate. To do this, pull back the top sheets and duvet for 20 minutes.
Your bed base can affect how the mattress feels. If you're using a slatted base we recommend no more than 6.5cm between each slat to ensure proper support.
No-Turn mattresses should be positioned with the label facing up.
Use a mattress protector to prolong the life of your mattress and provide an extra barrier from liquids and dust.
If moving your mattress, we recommend you keep it flat.
Each mattress feels different, so you'll need to give yourself time to adjust to the new sensation, support and comfort.
All mattresses show some body shaping as the fillings settle with use. Pillow top mattresses might show this more obviously, but this is normal and doesn't affect the mattress performance.
Rotate your mattress once a month (turning top to tail) to limit the effect of filling settling from body pressure.
Liquids can cause damage and discolouration, so try to keep them away from your mattress.
Turn dual-sided mattresses once a month.
Vacuum the surface every 2 months to keep your mattress dust-free.
Do not stand or jump on your mattress.
Do not use detergent or chemical cleaners as this can stain, bleach and damage the material and fillings.
Try not to sit on the edge of the bed as this can strain the edges of your mattress and cause the border stitching to split or edges to collapse.
---
Mattress toppers
Available in all standard bed sizes and a choice of materials such as memory foam for a sumptuous joint-easing experience and teddy bear fabric for a snugly soft and cosy way to sleep, mattress enhancers provide additional support and comfort that will give your bed a new feel. A mattress topper offers a simple and effective way to enhance your relaxation in bed, fastening easily to the top of your existing mattress to provide a refreshing new layer of comfort.
A mattress topper can improve your comfort in bed but is not a substitute for a good quality mattress, and cannot provide the same levels of support. While they provide a luxurious layer to your mattress that may renew and enhance your sleeping experience, there is no substitute for investing in a suitable mattress with the correct firmness rating for your needs. An old and worn out mattress will still fail to provide the structure and support you require for the perfect night's sleep.
---