LED Lighting Buying Guide
Energy saving, versatile and environmentally friendly
What is an LED bulb?
Light Emitting Diode bulbs (better known as LED bulbs) are an energy saving, versatile and environmentally friendly way to light your home. LED lighting is seen as the future for home lighting thanks to its many advantages:
LEDs are very energy-efficient, using up to 90% less energy than traditional incandescent bulbs.
The life expectancy is much longer than with traditional lighting.
LEDs produce much less heat than traditional lighting.
---
Power and lifespan: How much, how long?
An LED light bulb can last up to 50 times longer than incandescent bulbs, and they are more than 3 times as long lasting as their closest competition, CFL light bulbs. While the initial cost is higher for LED bulbs, your return on investment is roughly 6-12 months dependant on how much you use it, so after that, you're saving money. The table below demonstrates the cost saving over a 12 month period when using 20 LEDs in your home for an average of 4 hours per day based on electricity cost of 14p per KWh.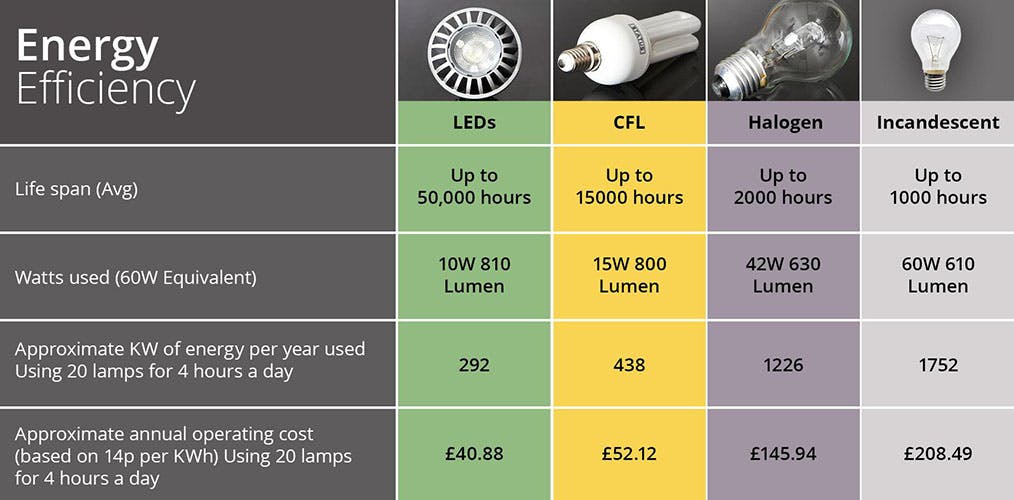 ---
How bright are they?
The light output of LED bulbs is measured in lumens (lm), and the more lumens, the more light intensity and brightness. The table below shows the approximate lumens to expect from the wattage purchased. The wattage refers only to the energy used to power the light bulb.
The table below refers to non-directional light bulbs only, as directional light bulbs such as spotlight, GU10, MR11 and MR16 have a different lumen output due to the different technology.

---
What colours are available?
LEDs come in a number of different colours which offer the choice of a warm golden glow or a cooler white light similar to daylight.
While it depends on a number of factors, every person has their own idea of what pleasant and unpleasant light looks like. This impression is known as colour temperature, and it's measured in Kelvin (K). You can buy light bulbs from around 2000-6000 K.
The higher the Kelvin value, the cooler and less yellow the light appears to the human eye. Wax candles for example have a colour temperature of approximately 1850 K. Daylight lamps on the other hand produce a very cold white (6000k) and imitate the spectrum of the midday sun (without any heat radiation).
Conventional incandescent bulbs produce a yellowish light at around 2500 K and a halogen light produces a less warm 3000-3400K. Lighting experts advise using warm white lighting in spaces such as the living room, bedroom and dining room, because people perceive this light as calming and warm.

---
LED bulb types and fittings
There is an LED equivalent for most bulb cap types and bulb shapes, and they will be suitable for your existing fittings.
The most common household bulb shapes include, spotlight, GLS, round, candle, GU10, MR11 and MR16. It is important to choose the right bulb shape so the light is channelled in the exact way that you want it to be. Your light fitting should include advice on the recommended bulb type.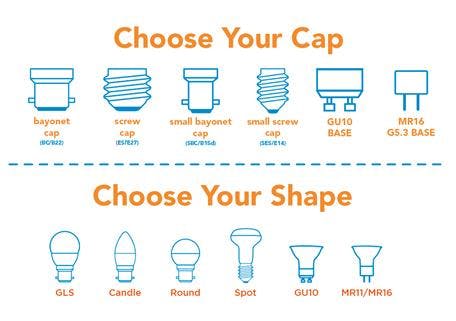 ---